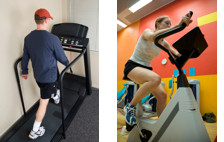 Exercise bikes and treadmills are some of the most popular pieces of home fitness equipment, which many exercisers use at their homes or at the gyms. There are many types of home fitness equipment, and consumers face the hard decision of choosing the best exercise machine suited for their workout needs and fitness goals.
There is no doubt that both of these machines are excellent calorie burners and easy to use; but the question is, which one is the best? Everyone is different (e.g. their training needs, goals, fitness level, workout capabilities, and health conditions).
Both of these machines have advantages and disadvantages, you should weigh the pros and cons to decide which one is best suited for you. There are three factors to consider when choosing home fitness equipment: long-term sustainability, the effectiveness of the workouts, and safety. Your decision whether to buy a treadmill or stationary bike should be based on the above three factors.
Treadmills
Unlike stationary bikes, treadmills have being around longer and they are more popular. They are the best selling home fitness equipment for aerobic and cardio workout; and they are by far, the most convenient for any type of aerobic workout.
This machine is mainly designed for weight-bearing exercises, such as walking and running, which offers you the best opportunity to build bone density in the lower extremities, and greatly improves overall muscle tone.
Shopping For Treadmills Online
There are many many different brands, prices, features and models of treadmills on the internet. We have included here a few of the better known compaines that we recommend which you can trust and rely on:-
Sole Treadmills have quickly established their brand as a good value alternative. And they continue with new models and continued product improvements. Their prices start from $999 to $2500.

For more information read my review... OR you can Shop For A Sole Treadmill HERE



ProForm Treadmills are postioned as one of the most popular and well known treadmill brands on the market. They were the company that revolutionized the treadmill industry with the now world-famous SpaceSaver® fold-away design. They are a highly recognized company and their online store sells their own brand, with prices ranging from start from $600 upwards.

Shop for your Own ProForm Treadmill HERE



Workout Warehouse stocks everything in workout equipment. Treadmill prices ranging from $200 to $2,700 they stock a range of brands including - sole, nordictrack, gold's gym, proform, epic, reebok, healthrider, weslo and image.

Shop for your Own Treadmill from Workout Warehouse HERE



Treadmills are not limited to running or waking; they can also be used for cross training, interval training, Incline Intervals, and waking on toes and heals.

They are excellent for cardiovascular workouts, which makes them the highest calorie burner when compared to other popular home fitness equipment, such as bikes and elliptical trainers.

Studies show that on average, most people burn about 750 calories per hour on a treadmill; while on a stationary bike, people are likely to burn about 550 calories per hour. If you want to lose weight and be fit, then a treadmill is your ideal home fitness machie, simply because of its high calorie burning ability.

Even though a high calorie burning machine is ideal, there are other factors to consider, such as types of workouts and endurance. Treadmills tend to be boring when compared to other machines, such as bikes; and boredom is the number one factor why many treadmill users quit using their machine.

If you choose a treadmill for your home fitness machine, learn how to beat treadmill boredom, so you can get more out of your workout.

Treadmills are less safe then bikes, however, as they are designed to run or walk faster to keep up with the belt. There is the high chance you may fall off the machine if you loose your focus.

You might think it is unlikely to fall off, but you will be surprised how fast it can happen, and how often. While doing a workout routine, most people entertain themselves by watching TV or listening music; all it takes is one wrong step and you can seriously injure yourself.

When using the machine, do not drink water; if you do so, be extra careful. Spilling water on the treadmill track can cause a safety hazard.

Treadmills are the most expensive pieces of home fitness equipment. The prices range from $170 to $3,500 and above, depending on what type of machine you want; whether manual or motorized, each of these machines have their pros and cons.

Manual treadmills are cheaper due to the absence of a motor, therefore, the exerciser powers the belt and it moves according to the ability of the user; if the exerciser slows down, the belt will slow down accordingly.

Motorized treadmills, on the other hand, are the advanced machines with a built in motor, incline, heart rate monitor, featured programs and calorie counter.
Exercise Bikes
Exercise bikes have been around for less time than treadmills; nonetheless, they are as popular as treadmills and provide a good aerobic workout. Their popularity increased over the years and they have become one of the best sellers for home fitness equipment.
Shopping For Exercise Bikes Online
There are many many different brands of Exercise Bikes available on the internet all with different model names, features and prices. This wide range of choice is great but it can make it confusing so We have included here a few of the better known compaines that we recommend which you can trust and rely on:-

Over the years, their design and technological aspect have improved, as well as the immensely popular spinning programs that allow exercisers to simulate outdoor cycling in the comfort of their homes or at the gym.

These types of machines are less expensive than treadmills. They are reasonably cheap, so you don't need to save up huge amount of money to lose weight and get fit.

Exercise bikes are no different from outdoor bikes and most people feel comfortable using stationary bikes. They are simple and non-intimidating, because most people have cycled in their youth.

This type of machine provides a gentle, yet effective low or non-impact workout, without putting too much stress on the spine. Stationary bikes are ideal fitness machines for those who experience low back discomfort. Physical therapists have incorporated exercise bikes into their practices for years, to help rehabilitate knee injuries in athletes, so they can maintain their cardiovascular endurance.

Unlike a treadmill, which is mainly for running and walking, stationary bikes offer the user an opportunity to increase their heart rate, without substantial stress on the knees, ankles, feet or hips.

Despite the variety of fitness equipment available for home gyms, exercise bikes remain a constant aerobic exercise machine in most homes. They are undeniably a superb form of cardiovascular training, but doing it in indoors is often counterproductive.

Exercising on a stationary bike strengthens the quadriceps and hamstrings, and involves the use of the gastrocnemius, anterior tibialis, and ankle joints. Many models even offer electronic features, which allow you to program the bike for a specific goal or workout.

This is very helpful for achieving effective, measurable results. However, the disadvantage of using this machine is they don't workout the whole body like treadmills do. When cycling, you have to monitor your posture by keeping your body in the upright, vertical position to maintain alignment of the pelvis, and prevent hyperextension of the back.

There is less chance of getting injured by a bike than by a treadmill; since bike machines put less stress on your joints, the less likely you are to sustain an injury during your workout routine. Also, you are less likely to be sore after the workout.

Riding a bike, whether stationary or outdoors, improves the flexibility of the leg muscles, especially the hamstrings, which further helps to reduce low back pain from muscle strain.

The cycling action also helps maintain the range of motion and flexibility of the many joints in the spine and legs, which in turn aids in maintaining flexibility levels thoughtout the lower body. The safest home fitness equipment out there is the exercise bike.



Final Word
Treadmills have being around longer than stationary bikes; both of these machines are great for home fitness.
From a training perspective, walking or jogging on a treadmill will burn more calories and exercise a greater number of muscles than using an exercise bike; but the benefits of an exercise bike are that they are cheaper to buy, easier to store in your house and have less impact on your body if you are prone to injury.
If you don't care about the type of workout and the cost of the machine is an issue, then exercise bikes are cheaper than a treadmill. In conclusion, both of these machines burn a lot of calories and are excellent pieces of fitness equipment to improve your fitness level and lose weight.




---