Shop For Your Own Sole F85 Treadmill HERE
If you are wondering whether a Sole F85 treadmill is the right treadmill for your workout needs or not, you are at the right site to learn the pros and cons of the Sole F85. This treadmill is one of the highest rated treadmills, by fitness experts and customers who bought this treadmill.
The Treadmill Doctor rated the Sole F85 as the best fold up treadmill and the best treadmill to buy under $2000. It's high standard, quality and excellent features speak for itself, and that is why many fitness experts and customers rate the Sole F85 treadmill the best treadmill on the market. Many customers enjoy Sole treadmills because of their customer satisfaction services, such as free shipping and no sales tax, if you purchase directly from the manufacturer.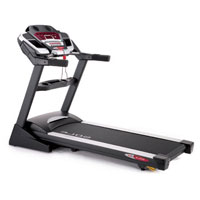 The Sole F85 treadmill is a steady, strong and reliable machine, that is easy to fold and unfold, making it one of the most convenient treadmills to use everyday. If space is an issue, then the folding feature of the F85 model is perfect for you.

A Sole F85 treadmill has a 400 pound user capacity, meaning heavy users can benefit from exercising on this treadmill; unlike most treadmills on the market, which are not fit for heavy users, due to the weak structural build of the treadmill. The Sole F85 treadmillcomes with a long running surface of 85 inches, and a six window tricolor Led display with a message board, just like the one at the gym. The large running surface comes with a powerful, continuous duty 3.5 horsepower motor.


Features:
• High-quality folding treadmill with 3.5-horsepower continuous-duty motor
• Offers speeds up to 12 miles per hour and inclines up to 15 percent
• Vibrant tri-color display tracks speed, incline, time, distance, calories, pace, and more.
• Six preset workout programs, two custom programs, and two heart rate programs
• 20-by-60-inch running deck; lifetime warranty on motor, deck, and frame


Sole F85 Treadmill Specifications:
• Motor: 3.5 HP continuous duty, DC type, ultra high torque
• Speed: 0.5 to 12 mph
• Incline: 15% maximum, rack and pinion gear design
• Weight: 280 pounds
• Deck Size: 33 x 80, Cushion Flex Shock Absorption Whisper Deck
• User Weight: 400 pounds
• Running Surface: 20 x 60
• Belt: Double woven, 2-ply
• Rollers: 2-3/4 inches
• Folding: Yes, with the Easy Assist folding feature
• Heart Rate Control: Yes, wireless chest strap included
• Hand Pulse Grips: Yes, and arm rest speed/incline controls
• Display Color: Tri Color (red, green, gold)
• Message Window: Yes, scrolling information
• Standard Programs: Six
• User Defined Programs: Two
• Heart Rate Programs: Two
• Cooling Fans: Yes


Final Word
The Sole F85 treadmill has long term durability and customer satisfaction features; making it one of the best quality treadmills on the market. It is highly rated by fitness experts and consumers. It also comes with a life time motor, deck and frame warranty, which makes it an easier choice for many customers to go with a Sole F85 treadmill.



Click here to buy a Sole F85 treadmill directly from the manufacturer, free shipping and tax.






Read Related Sole Treadmill Articles Sole Treadmills Review
Sole F63 Treadmill Review
Sole F83 Treadmill Review
Sole F85 Treadmill Review



---
What is the Best Treadmill Workout Program?

Training by yourself on a treadmill can be hard and challenging to say the least especially if you are a beginner, and this is one of the reasons why many people get bored after a few weeks of using a treadmill.
Treadmill trainer is a great Mp3 / Ipod workout program that every treadmill user should have, it is like having your own personal trainer motivating, encouraging and helping you every step of the way.
Treadmill trainer workout program will not only motivate you but will also increase your chances of getting fitter than you've ever been and lose weight faster than you ever thought is possible on the treadmill.
---